The Geisha House (おもちゃ Omocha) is a 1999 film directed by Kinji Fukasaku on the Geisha culture and lifestyle.
Director: Kinji Fukasaku
Writer: Kaneto Shindo
Producer: Takashi Kasuga, Noriko Koyanagi, Izumi Toyoshima
Cinematography: Daisaku Kimura
Release Date: January 15, 1999
Runtime: 113 min.
Distributor: Toei
Language: Japanese
Country: Japan
Set in the late 1950s, when geisha culture was threatened by moral crusades, it tells the story of Omacha (Miyamoto Maki), a young girl who sees the geisha life as a way to lift her poverty-stricken family from their hand-to-mouth existence. Through her eyes, we see the protocols and complex financial relationships which dictate the running of the geisha house.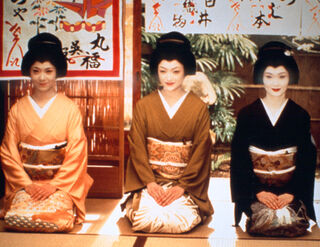 Produced by:

Kinji Fukasaku - planner
Takashi Kasuga - producer
Noriko Koyanagi - producer
Masao Sato - planner
Izumi Toyoshima - producer

Art Direction: Yoshinobu Nishioka
Assistant Director: Kenta Fukasaku
Sound Department: Maiku Samata
Gaffer: Kiyoto Ando
In the scene where Tokiko watches the geiko dancing, the fusuma (screen) in the background is Irises, by Ogata Kōrin.
---
Community content is available under
CC-BY-SA
unless otherwise noted.